Riches within your reach
Riches within your Reach introduces a few of many fabulous people, that care about you, they are amazing beings that help you through your self-healing journey through valuable content,  information that you can enjoy reading, searching, exploring, and learning. Trust you do enjoy it, and feel free to suggest topics you would like, or inbox me at tania@bodymindspiritbazar.com With love.
Enjoy some Riches within your reach below:
LIVIA TERRA ( Author)
"Brave: The Intuitive Travel Guide for the New Paradigm Seeker"
The author pairs her personal experiences of travelling with words of courage that inspire and boost your belief in yourself. You'll learn strategies for self-development, working on yourself, and methods of personal evolution all centred on strengthening your mind, overcoming depression and so much more!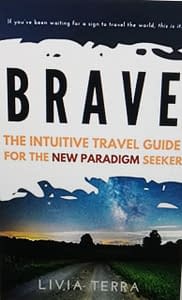 Just a warning!! This is such an amazing book that will get you wanting to travel and explore, yet if not, her journey is true life based and the best $5 dollars you will have ever spent in your life if you choose to buy it. Visit Amazon to read the first pages free and decide for yourself. This book is a must, I would share it with the world for free if I could! I read it in just a few hours, could not stop reading it. Author Livia Terra has been travelling for almost five years. Her adventure started with 1000USD, a plane ticket, a backpack and an open heart. She shares everything she's learned about travelling, strengthening her heart, and developing the confidence of a traveller. It's time for her to pass her knowledge on to you, dear reader to help you find your place in this world.
Dr. Michael B. Beckwith
About https://agapelive.com/pages/about-agape 
"A spiritual teacher creating leaders, not followers. Dr. Beckwith is a sought-after meditation teacher, conference speaker, and seminar leader on the Life Visioning Process™ " Dr Michael appeared in my life (and he does not know it)… in divine timing for a chapter or period in my life, that mattered most.
 Luna & Sol
About https://lonerwolf.com/about/#
Another amazing and fabulous stop to search, explore, learn about yourself, heal & transform. Luna & Sol offer free amazing books, tests…
Walk the path less travelled – Luna & Sol are Spiritual Counselors and Soul Guides, their core mission is to empower lost seekers to find the path back to their Souls by guiding them toward clarity, self-acceptance, and a deeper sense of meaning and purpose on the spiritual awakening journey. They value a raw, real, and down-to-earth approach to inner transformation. Listen to your Soul's calling.https://lonerwolf.com/spiritual-journey 
Paulo Coelho
One of my all-time favourite writers. …"Brazilian author Paulo Coelho not only writes about self-fulfilment and personal happiness, but he also embodies his success stories. Coelho's territorial independence made him the most famous Brazilian author abroad. His books have been translated into 81 languages and published in 170 countries." https://paulocoelhoblog.com/ The Alchemist (can be seen as the best introduction to a new way of thinking) click here to listen to the audiobook for free! The Pilgrimage, and so on.
 Dr Gary Chapman
"Gary Chapman, Ph.D.—author, speaker, and counsellor—has a passion for people, and for helping them form lasting relationships. Chapman is a well-known marriage counsellor and director of marriage seminars. The 5 Love Languages® is one of Chapman's most popular titles, topping various bestseller charts for years, selling over twelve million copies, and has been on the New York Times best-sellers list since 2007".  A must! How do you give and receive love? https://www.5lovelanguages.com/5-love-languages/ It gives us the idea that love is given and received differently.
Don Miguel Ruiz
…" The Four Agreements: A Practical Guide to Personal Freedom is a self-help book by bestselling author Don Miguel Ruiz with Janet Mills. The book offers a code of conduct based on ancient Toltec wisdom that advocates freedom from self-limiting beliefs that may cause suffering and limitation in a person's life"…https://www.miguelruiz.com/ I truly believe this book does have to be part of the spiritual awakening journey.
More? Click here